Title:
You and I
Author:
mozzarellaroses
(ON LIVEJOURNAL)
Artists:
takethatina
and
patchedfox
(ON LJ)
Fandom/Genre:
SUPERNATURAL, based on the music video and song "You and I" by Lady Gaga. ALTERNATE UNIVERSE crossed with SPN's canon. Romance.
Pairings:
Dean/Castiel, Minor Sam/Gabriel
Rating:
R
Word Count:
12,797 (13,444 with final notes)
Warnings:
Obsession, death!fic, light implications of body horror, confusing non-linear storytelling
Summary:
Dean wakes up in another world where Dean and Sam Winchester were raised by Mary, and always reminded that "Angels are watching over you." The Dean of this world knew this to be true. After all, he'd seen one, the night of the fire. An angel in a trench coat that saved his life.
This is the story of the man who loved too much, the angel who didn't want to let go, and the man who put all these events into motion.
Based on Lady Gaga's music video of her song "You and I".
Video here: http://www.youtube.com/watch?v=X9YMU0WeB
wU&ob=av2e
NOTES: (PLEASE HIGHLIGHT)
I read an explanation once of the video in a youtube comment which I can no longer track down. It basically says that in the video, the mermaid and the man were in love. They dreamt of a wedding together, being together, but she couldn't get out of water. So he tries to change her to fulfill her dream and ends up killing her.
He remakes her, but the second version, full human, leaves him... but eventually, with all the memories of their past, she comes back to him.
<b>MORE NOTES TO COME AT THE END OF THE STORY</B>
No explanation on the piano in the middle of the field.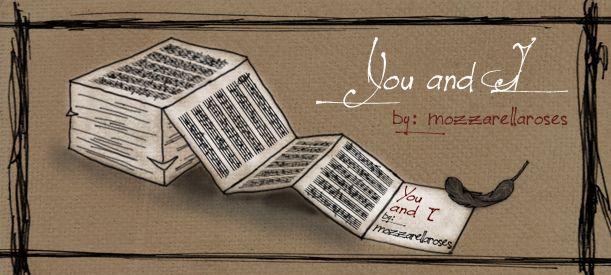 ( We've got a whole lot of money but we still pay rent, cuz you can't buy a house in heaven... )